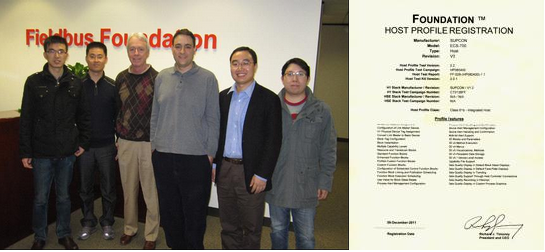 SUPCON DCS Passes FF Authentication
December 22, 2011-SUPCON WebFieldTM ECS-700 DCS and SUPCON Asset Management System (SAMS) which support FF (Foundation Fieldbus) technology got the authentication from FF Foundation in the USA. It accomplished the Host Profile registration procedure on 20 Dec., being the first 61b Profile host system in Asia and the third in the whole world.
FF Host Profile certification has very detailed regulations in field instrument management, control, diagnosis and alarm, etc. Comparing with the 61a Profile, 61b Profile addresses more mandatory requirements for functional modules and EDD, etc. Early in 2010, SUPCON had passed conformance tests of the physical layer and protocol stack in Germany. The tests guaranteed that ECS-700 is totally in line with FF fieldbus standards in functions and performance, as well as compatibility between system and instruments.
WebFieldTM ECS-700 provides the most complete host system functions and has gained a high praise from Richad Timoney, Chairman of FF Foundation. SUPCON's technical advantage is largely enhanced by the authentication, especially in large-scale petrochemical projects and overseas high-end areas.
Links: FF fieldbus is currently the most advanced and flexible automation solution. By using FF technology, clients can choose the best compatible control products from different suppliers, and integrate with all the control systems, subsystems and instruments within the plant. Among the largest 10 oil and gas companies in the world, 9 of them have adopted the FF technology. It will be of great potential in emerging economies like BRICs and the Middle East countries.