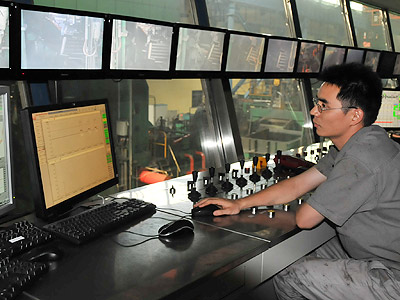 SUPCON Wins 10-Million-Ton Steel EMS Project
November 14, 2011-SUPCON Software Co., Ltd. has won the Energy Management System (EMS) project in Guangxi Liuzhou Iron&Steel Group Co., Ltd.(Liusteel) and signed the contract on November 11. This is another major success for SUPCON's EMS business ever since winning the project in Fujian Sanming Iron&Steel (Group) Co., Ltd. in July this year.
The establishment of Liusteel Energy Management Center(EMC) is an industrial enterprise EMC demo project authorized by the Ministry of Industry and Information Technology. Among five competitive suppliers from home and abroad, SUPCON Software was marked highest based on a recongized reputation and a set of tailor-made EMS solution.
As a highly potential area, EMS is gaining more and more attention from high energy-consumption industries. And SUPCON is building up solid technical and teamwork foundation to expand the blue ocean market
Links: Liusteel is the largest industrial enterprise in Guangxi province with an annual production of over 10 million tons and an output value of 50 billion RMB. It is ranked 14th place in the nationwide iron and steel industry.